A Specialized Consulting Practice
Filling a Niche in the Tucson, Arizona Market
Strategic Advice, Localized Counsel, and Project Shepherding
in Land Development, Planning & Zoning, and Entitlements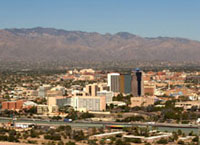 The Value We Provide
Over the years, the Tucson metropolitan area has developed a certain reputation in our industry, both locally and nationally, as being one of the more unpredictable and challenging regulatory and political environments. In short, Tucson is often viewed as a place where it is difficult to "get things done" and is, as such, a thorny prospect for the land developer and their investors to assess the risks involved and the prospects of success. This is especially true for out-of-town interests who are not familiar with Tucson's local personalities, leaders, political mores, and prevailing governmental and business practices.
The primary role of Projects International is to provide you with the organic expertise, strategic acumen, and professional way-finding necessary to guide you and your project through our local regulatory and political framework. Our value is in charting the most appropriate, cleanest, and wisest path for your project, providing you with on-going counsel and direction as issues and obstacles emerge, and managing the day-to-day progress and specifics of the entire endeavor. We work on your behalf, and as your advocate, in close coordination with all of the myriad key regulatory professionals involved at every stage of the project.
We bring more than 25 years of technical land-planning, civil engineering management, and project leadership expertise to the equation, yet our primary value lies outside of the technical aspect of things. The most important thing we do for our clients is accurately navigating their project through a place for which there is no guidebook and no how-to manual. This is where, for all intents and purposes, the fate of your project mostly resides.
The on-going leadership and counsel we provide benefits the efforts of your entire consultant team, insuring that their work and the tangible products they produce are seen in their best possible light … and that they are reviewed, processed, and approved by regulatory staff in the most efficient and expedient manner possible.
Lastly, we serve as the primary public "face" of your project, whether it be handling all necessary interactions with government staff and administrative officials, citizen & neighborhood groups, City & County elected officials, and media representatives, or fulfilling the role of primary presenter and spokesperson at all required public hearings and legislative votes.
In summary, and for lack of a better word, we shepherd your project through the public and administrative processes and protect it from the potentially harmful - and always costly - wrong turns and hazards that can hurt it along the way.